Water Clarity and Algal Composition in Kalamazoo Lake and Harbor
Updated November 2021.
Kalamazoo Lake and Douglas Lake water were sampled in October 2020, July 2021, and September 2021 to assess water clarity and algal composition and concentrations, important parameters in determining the overall health of the water system. In all three sets of measurements, vertical profiles of algal composition/concentration were obtained using MTRI's FluoroProbe instrument and water clarity was estimated using a Secchi disk.
These measurements can be used to estimate the Tropic State Index (TSI) of a lake. TSI is a classification system to rate water bodies based on biological productivity and generally lakes in Michigan fall in either an Oligotrophic, Mesotrophic, or Eutrophic class, where Oligotrophic indicates the least amount of biological productivity and generally has "good" water quality, Mesotrophic lakes have a moderate amount of biological productivity exhibiting "fair" water quality, while Eutrophic lakes have a high amount of biological productivity resulting in "poor" water quality.
The individual algal compositions and their respective concentrations obtained from the FluoroProbe are also useful in respect to detection of cyanobacteria and CDOM. High Cyanobacteria can indicate a Harmful Algal Boom (HABs) situation, a potential health issue. The CDOM value represents the "dead" organic substance in the water column, and a high CDOM value will result in brown water.
The Secchi disk measurements are a cost effective technique to estimate water clarity. We also use the Secchi disk depth to estimate photic depth, the depth at which there is still sufficient light for photosynthesis to occur. At each site we calculated the 10% photic depth light level using the Secchi disk depth. That value is generally used to estimate at what maximum depth benthic aquatic plants such as the invasive Eurasian watermilfoil (EWM) can grow.
October 2020 Measurements
The October 6, 2020 sampling consisted of six measurement sites spread throughout Kalamazoo and Douglas Lakes. The locations of the sites are shown below along with their Chlorophyll concentration profiles.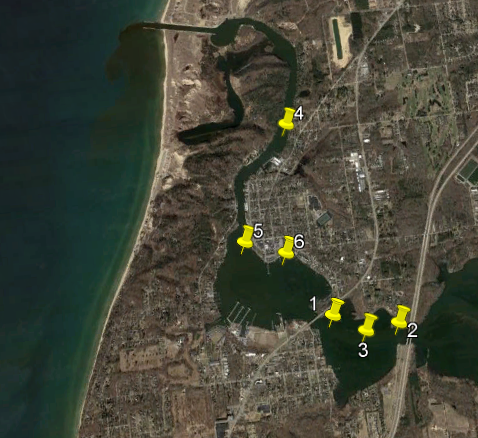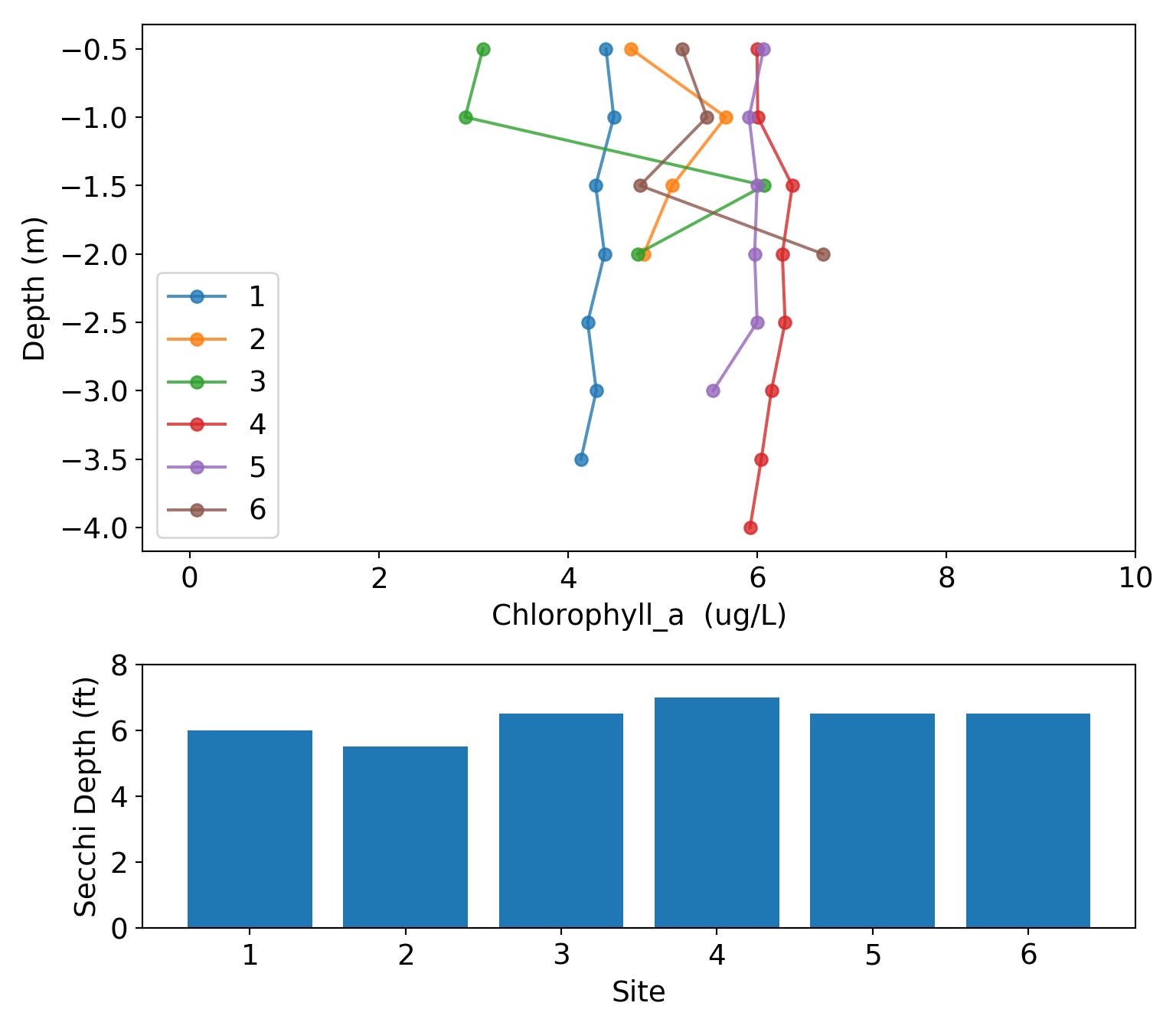 Conditions were similar at all six sites, with surface Chlorophyll concentrations ranging from approximately 3-6 µg/L. Concentrations between 2.6 and 20 µg/L indicate Mesotrophic waters where benthic vegetation such as EWM can grow.
The low algal concentrations resulted in clear waters, with Secchi disk depths ranging between 5.5 and 6.5 ft. The Secchi depth values were used to estimate the 10% photic light level, with values ranging from 9.5 to 11 ft. The estimated photic depth matched or exceeded the measured water depth at five of the six stations, indicating that invasive EWM may grow there.
July 2021 Measurements
An additional six sites were sampled on July 25, 2021. The locations of the sites are shown below along with their Chlorophyll concentration profiles.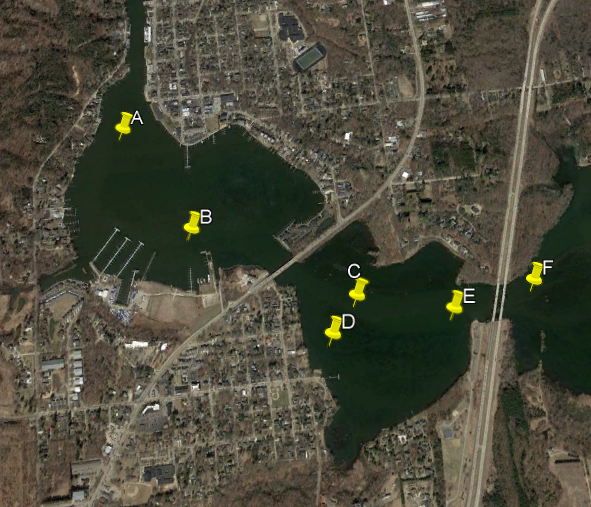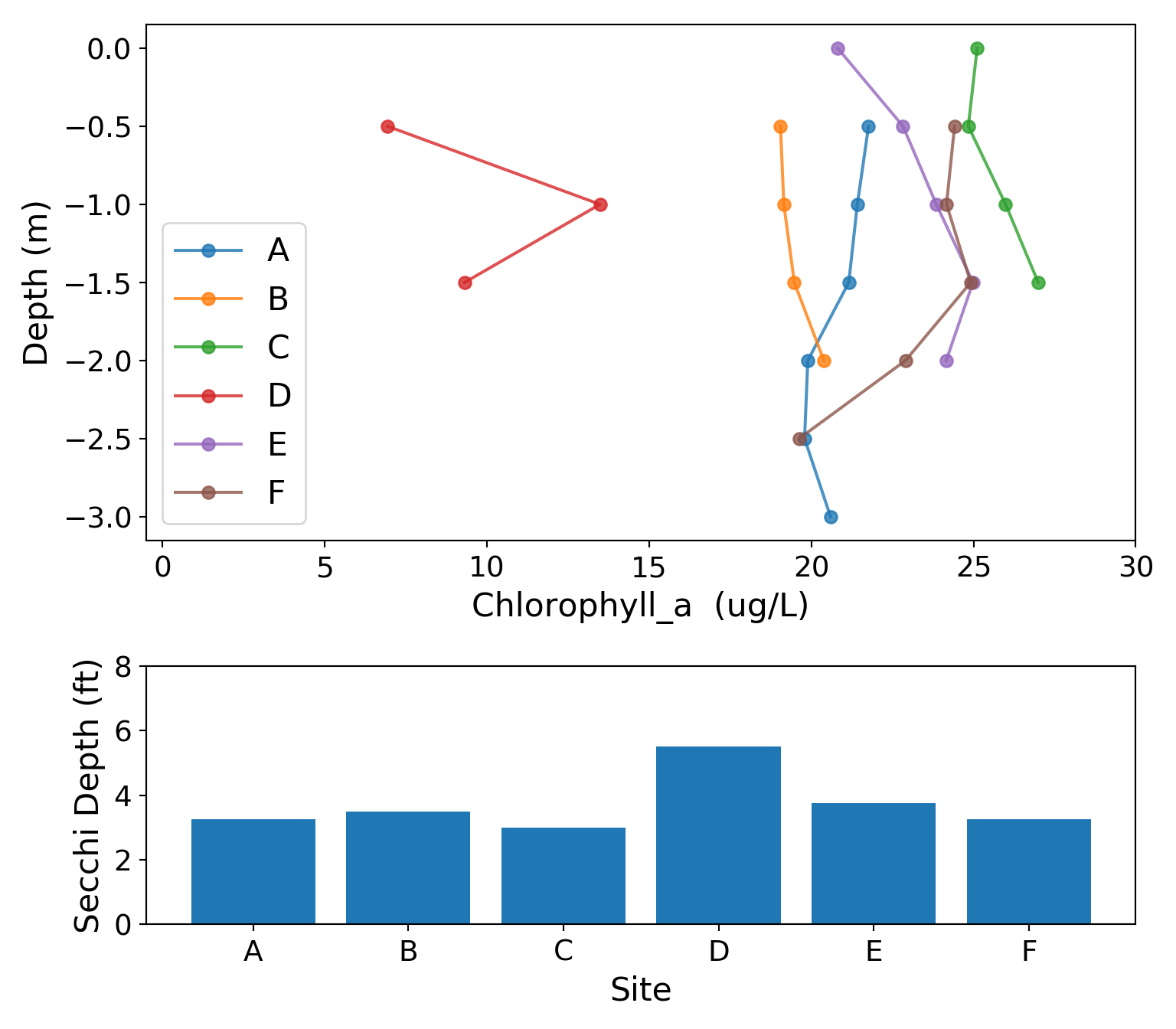 The surface Chlorophyll concentrations ranged from ~10 µg/L to ~25 µg/L. Values of 20 µg/L or greater indicate Eutrophic conditions. Note how the water quality changes from Mesotrophic in the fall to Eutrophic in the summer due to increased biological productivity.
The Secchi disk values ranged from 3 to 5.5 ft. Five of the six were in the ~ 3 ft range (this is a decrease of approximately 50% from the values observed in fall 2020), resulting in an estimated 10% photic zone depth of ~ 5 to 6 ft.
Five of the six sites showed similar water quality. The exception was the site near the Douglas Marina (Site D) where algal concentrations were notably lower and water clarity was higher. Water conditions at this site were more Mesotrophic, similar to those observed in October 2020.
September 2021 Measurements
On September 29, 2021, several of the sites measured in the prior collections were re-sampled. The locations of the sites are shown below along with their Chlorophyll concentration profiles and Secchi disk depths.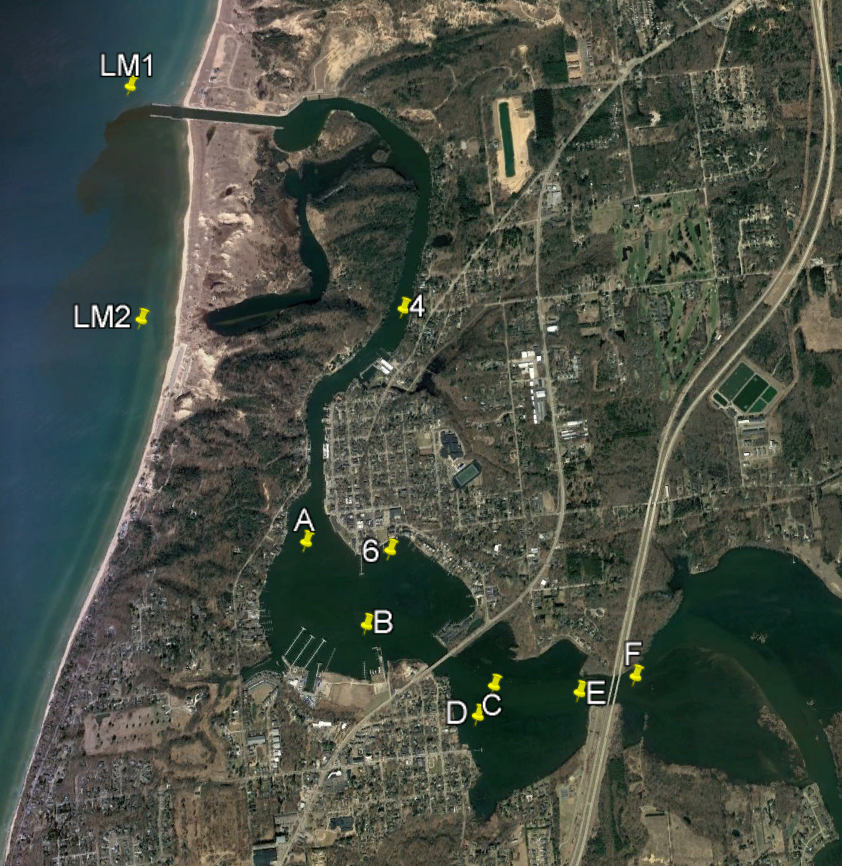 The surface Chlorophyll concentrations ranged from ~20 µg/L to ~40 µg/L, indicating Eutrophic conditions at all locations. These concentrations are much greater than what was observed in July 2021 (each location experienced at least a 40% increase, with site D having a >200% increase)
The Secchi disk values ranged from 3 to 6.5 ft, with only LM2 (a location off of Oval Beach) having a value greater than 4 ft. These values are similar to what was observed in July 2021 despite the large disparities in surface chlorophyll. This incongruence can be partly explained by differences in the CDOM levels between sampling visits, as seen in the right panel below. CDOM was elevated in July 2021, likely due to rainfall events in the days leading up to sampling. Increased CDOM would lead to darker waters and reduced water clarity.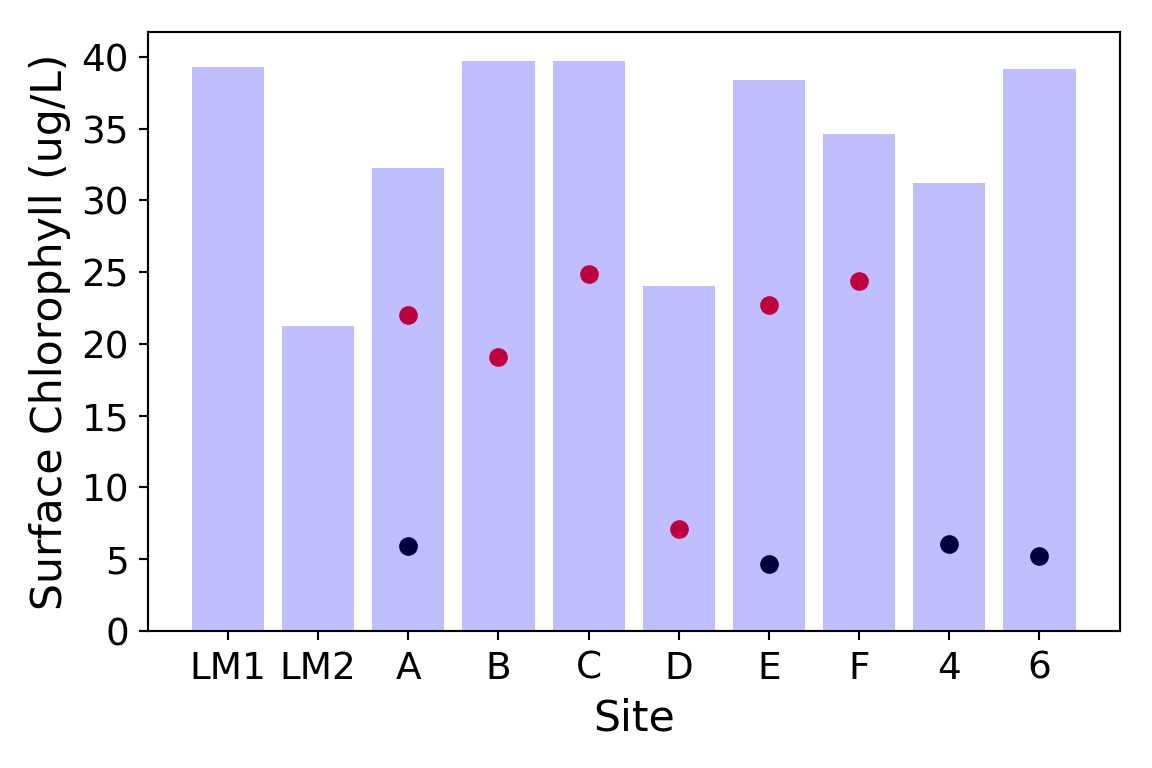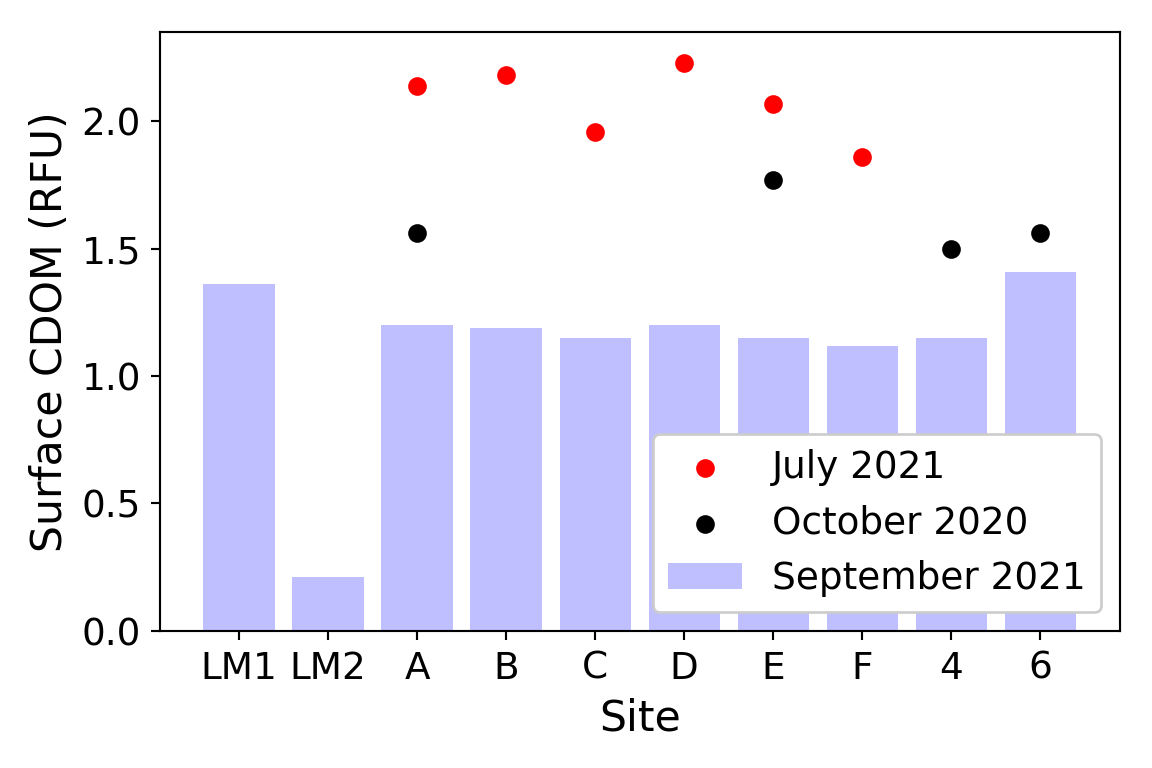 As in July 2021, lower chlorophyll concentrations were observed at the site near the Douglas Marina (Site D) relative to the other inland stations. The concentrations at this station were more similar to those observed at the Oval Beach station (LM2). However, the water clarity was comparable to the other nearby stations, likely due to the difference in CDOM levels.
Site Summaries
The full suite of data for each site is presented individually below. Shown on each site summary is the location map, water temperature, water depth, Secchi depth and a calculation of 10% photic depth light level. Also shown at each site is the composition of the algae present and their concentrations. For example, very little cyanobacteria was observed in any of the profiles, indicating the lack of a HABs concern. Our lake and harbor water is primarily composed of diatoms and green algae, a good thing. In respect to the CDOM measurements, the values within the Kalamazoo Lake and River are fairly typical for inland waters, but elevated relative to those seen in open Lake Michigan. Large rainfall events often lead to higher CDOM levels and thus more of a brown water color.